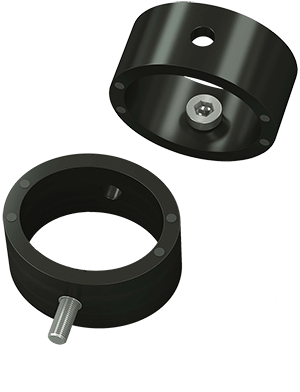 For more than 25 years, Blow Up Video Production has provided broadcast engineering services and equipment for a range of video and television projects around the world. With the help of profile dampers from ACE Controls, the company developed unique shipping cases, ensuring its cameras and other high-quality equipment could be transported to their various locations undamaged.
Avoiding Travel Accidents. The company saw many accidents in the past. Shipping cases were known to have been pierced by forklifts or dropped from damaging heights. "Air travel is another big source of potential trauma," Martin Schiemann, who heads Blow Up, said. After several accidents resulting in equipment damage, Schiemann and his team decided to revamp the shipping cases with the help of ACE Controls.
ACE TUBUS Profile Dampers. ACE engineers recommended TUBUS TR67-40 profile dampers, which enable very long, yet soft deceleration with a gradual reduction of energy at the end of each stroke. Designed for radial damping, these dampers have an energy capacity of up to 204 in-lbs/cycle and a dynamic force range of 49 to 1,686 pounds.
Within each shipping case, equipment is placed on 19-inch stackable racks, each of which is supported by four TUBUS dampers. Engineers can also easily adapt the damping effect, depending on the weight of the equipment. "Thanks to the TUBUS dampers, we can guarantee that our equipment will arrive safely at any location in the world," Schiemann said.