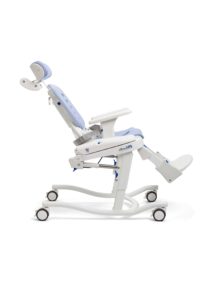 Our last blog—which kicked off our series on designing and customizing standard gas springs—explored the differences between off-the-shelf and engineered components. But there are more factors to consider. Depending on your application, you'll need to choose from a variety of gas spring types.
Let's take a look at some of the common ones you'll see, as well as examples of their typical uses:
Push-type gas springs to lift and lower loads. These gas springs suit devices that lift or lower loads with easy control and minimal exertion. They support covers and lids in many industries, including automation and machine building, medical technology, electronics—and more.
Pull-type gas springs to fit constrained spaces. These compact springs can mount in any orientation and position. Unlike push-type springs, the gas pressure in the cylinder retracts the piston rod. Pull-type gas springs are used in various industrial applications, as well as medical devices, electronics and furniture.
Locking gas springs to hold a position. Many chair-type applications, such as mobility systems, need to maintain a certain position to support the end user. For example, when a person triggers a chair into motion by pressing a button or lever, a piston valve opens—extending the spring and moving the seat into position. When the user triggers the seat again, the valve closes, locking the piston rod—and chair—into position.
Rust-inhibiting gas springs to protect against corrosion. Many gas spring vendors offer rust-inhibiting versions of their standard models to protect against corrosion in food or hygienically sensitive areas. ACE Controls, for example, offers standard gas springs with an advanced UV coating or stainless steel outer bodies that can also be filled with food-grade oil—conforming to FDA standards.
To learn more about gas spring design and customization, download our latest white paper.