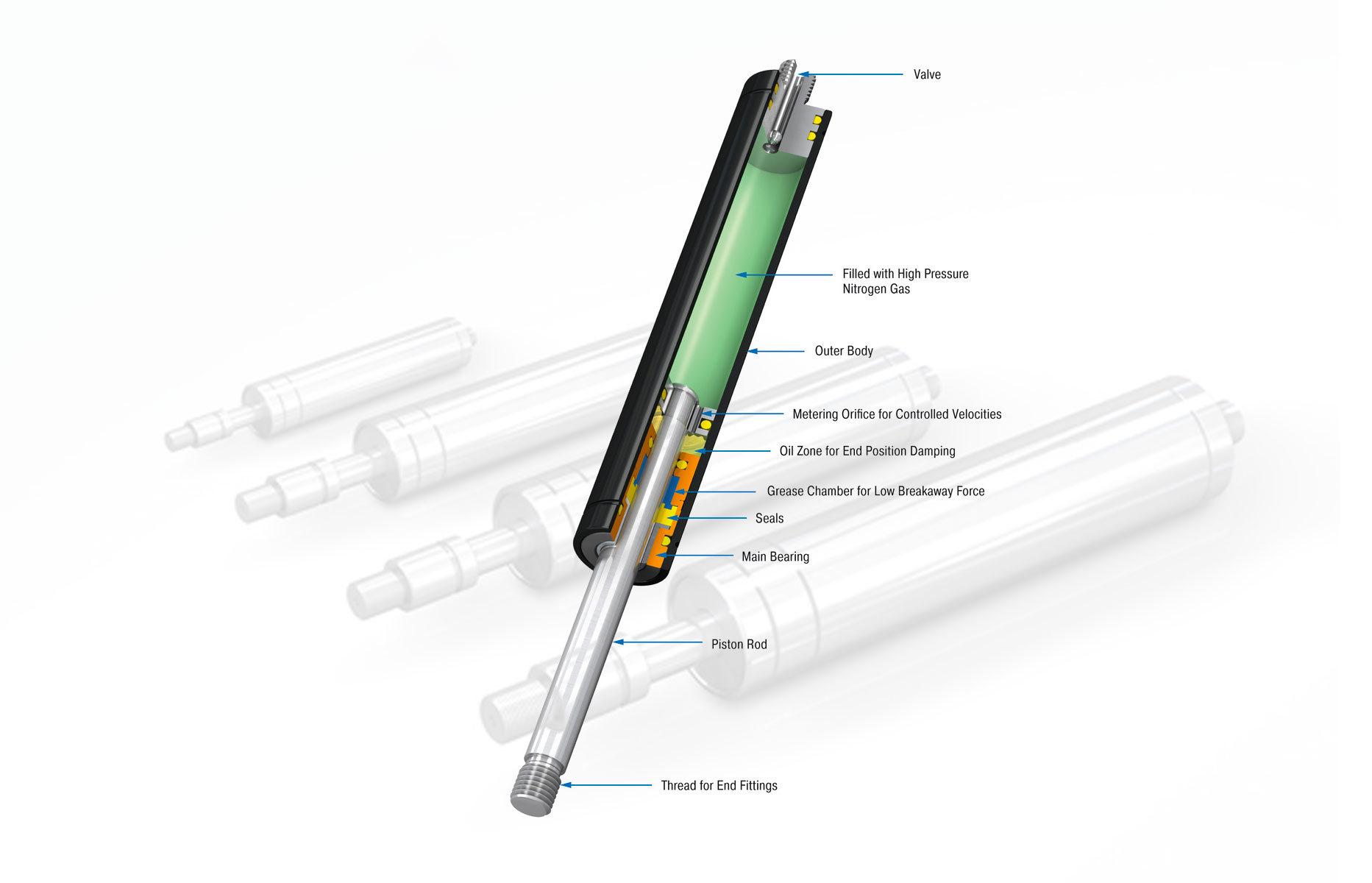 In a seasonal business like farming, there's only a limited amount of time to make money. Whenever critical equipment malfunctions or compromises worker safety, farmers can't recover the lost time and money. All the components used in agriculture equipment must be engineered for reliability and safety, including components farmers don't often think about — like gas springs.
That's what an international manufacturer of corn harvesting equipment had in mind when it needed a device to safely support hoods in one of its corn pickers. The machine uses a series of blades to cut corn and assure proper material flow. It keeps the blades covered with individual plastic hoods. In order for farmworkers to access the blades to perform regular maintenance, the hoods must be opened and held in place. Each hood weighs 15 pounds, so a falling hood can potentially injure a worker.
The company chose an ACE Controls GS 22-250-DD user-adjustable push-type gas spring. With a stroke length of up to 9.84 inches, this industrial gas spring is well-suited to lift, lower and support hoods and lids in a variety of industrial applications. It comes ready to install, filled with pressurized nitrogen according to customer requirements to achieve the required pressure source. ACE Controls also outfits its industrial gas springs with a relief valve in case further adjustments are needed. These gas springs also offer one additional benefit that makes them perfect for corn harvesting applications: durability. That's because the GS-22-250's piston rod and housing are coated to prevent wear and stand up to the harsh conditions out in the field.
Gas Springs Yield Better Uptime
Thanks to the ACE Controls GS-22-250 industrial gas spring engineered to the manufacturer's requirements, the corn harvesting machine's hoods reliably stay open so farmworkers can safely perform routine maintenance to ensure optimal material flow. Not only can machine operators access the blades without risk of injury from the hoods, they're also less likely to experience downtime otherwise caused by lack of maintenance. That means they can maximize revenue during harvest.
For more information about ACE Controls' industrial gas springs, visit the product page.