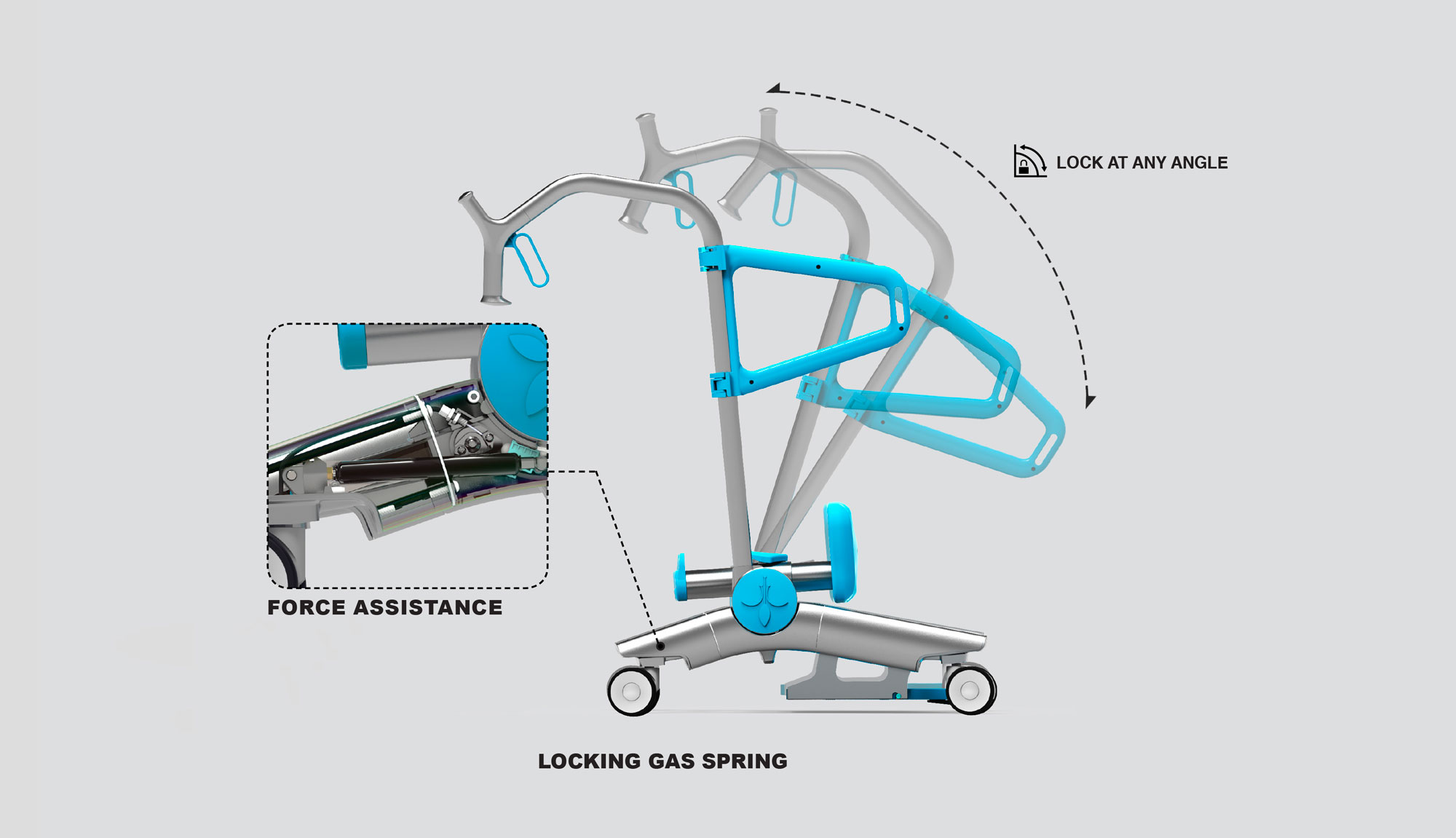 Blue Orchid Care needed to add a feature to their new product that would make it easy for a caregiver to lift a patient to a standing position and lock in place to allow them to be easily moved. After researching products on the market – ACE gas springs were the solution that they chose. Sina Afshani, the CEO of Blue Orchid Care, had reached out to numerous other gas spring manufacturers during the design stage of the product but said that ACE "went above and beyond."
The ORCHIDlift product is an all-in-one solution for everyday mobility needs. The product improves patient care by making it easier for caregivers to transfer, support, and lift the patients. Their mission is "to create and design simple and innovative solutions for the challenges millions of caregivers face every day." This product alleviates the strain and awkward positioning needed to lift patients that are not very mobile, it also provides the support needed for a caregiver of any size and stature to lift any size patient.
The constraints faced when designing the ORCHIDlift:
Could not require electronics or batteries
Needed to be able to lift at least 350lbs
Had to be compact and easy to store
The Blue Orchid Care team needed to find a product that could manually assist with the lifting and also lock in place for the transferring of patients. The product also had to be compact enough to allow for the entire system to fold away when not in use. They chose ACE Controls because of the engineering and sales support that they received from our team. They explained that ACE went above and beyond in answering all questions that they had and helping them to choose the correct product. In addition to helping to choose the right product, ACE also provides CAD drawings, installation drawings, online sizing and configuration tools, and a prototype service.
The ACE gas springs reduce the amount of force that is required by the caregiver for lifting. Two 250N gas springs were needed to provide enough power to lift 350lbs. Additionally, the design needed to have a locking feature so that the handle can lock securely in place at any angle. Gas springs also provide a smooth, controlled motion for lowering the patient.
Having the perfect fit is priceless
The main concern going into designing this feature of the product was finding a manufacturer that would be easy to work with and quickly respond to all questions and engineering issues. Working with the ACE team to find the perfect product gave Blue Orchid Care assurance and comfort knowing that their design will work perfectly.
For more information about ACE Controls' Gas Springs, visit www.acecontrols.com