It's important to avoid the dispersion of microbial particles in hospital environments and cleanrooms that produce pharmaceuticals and cosmetics. Compromised air quality can contaminate products or cause an infection in vulnerable patients. These high-grade areas require in-process sampling to detect microbial particles.
Recently, Pinpoint Scientific of Bridgend, Wales, U.K. set out to develop an innovative active air monitoring and sampling system — the ImpactAir®-140. This sampler works by drawing in air at high speeds. Particles and microbes impact and stick onto an agar surface in a Petri dish, where the unit measures them as colony forming units (CFU) per cubic meter and then displays the results.
The ImpactAir-140 Slit-to-Agar microbial air sampler offers several advantages versus conventional monitoring systems such as stainless steel construction with no particle shedding, low vibrations, easy operation and higher sampling efficiency. Its most important breakthrough is a built-in system that constantly monitors and adjusts the distance between the indent and the agar surface — a factor that causes significant performance variations in other samplers.
Enabling Easy Control of the Lid
Pinpoint Scientific decided to make the ImpactAir-140 more user-friendly than previous generations of microbial air samplers. To make the lid to the Petri dish easier to operate, the company turned to a local ACE distributor, Applied Automation, to provide a motion control device. Although the distributor could have recommended industrial gas springs, the customer's specific requirements made hydraulic dampers the optimal choice. These dampers provide a constant feed rate, combined with easy adjustability, and only have to be tapped lightly to trigger the lid to open. They also allow gentle closure without additional damping.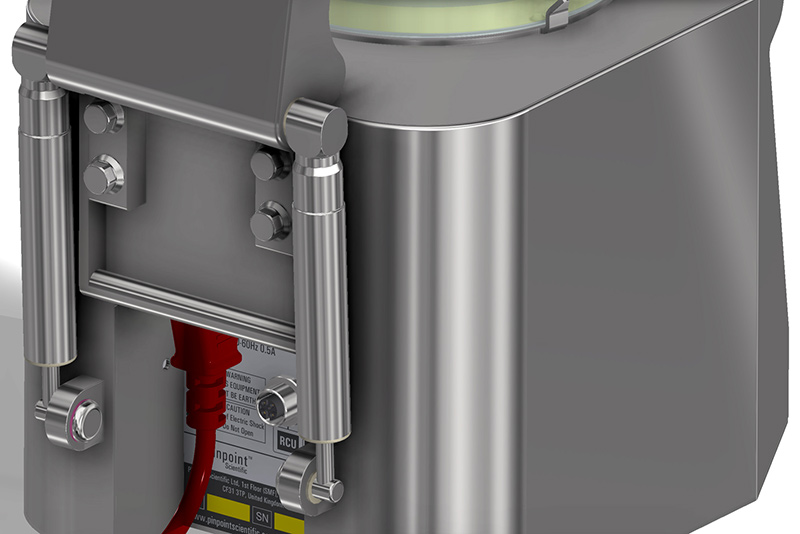 With the help of the ACE distributor, Pinpoint Scientific equipped its sampler with HB15-50 type hydraulic dampers. A 15-millimeter outer body diameter and 50-millimeter stroke make these components an ideal choice for easily opening and keeping the lid at the desired, 60-degree opening angle. Making adjustments at the end position is easy, and these dampers offer a compressive and extension force adjustment range from 20 to 800 Newtons.
Additional features include:
A coated body
Piston rods with rear-resistant surface treatment
Long service life
Maintenance-free and ready to install
Since the ImpactAir-140 is intended for critical laboratory and cleanroom environments, mineral oil could not be used as a damping medium. Instead, ACE engineers filled the dampers with a specially refined vegetable oil with a similar viscosity and service life. Pinpoint Scientific also engineered stainless steel sleeves to cover the outer bodies of the dampers to adhere to strict hygienic requirements.
Lids Without Limits
The ImpactAir-140 Slit-to-Agar microbial active air sampler is positioned as the new gold standard in active air monitoring and sampling. And, due to the high quality and long service life of the HB15-50 hydraulic dampers, there are no limits to how often the lid of this high high-end instrument can be opened or closed. "Working together quickly with our distributor, Applied Automation, led to the desired result for Pinpoint Scientific," says Wyn Gordge, Area Manager for ACE Fabreeka UK.
For more information about our HB15-50 hydraulic damper, visit our product page.