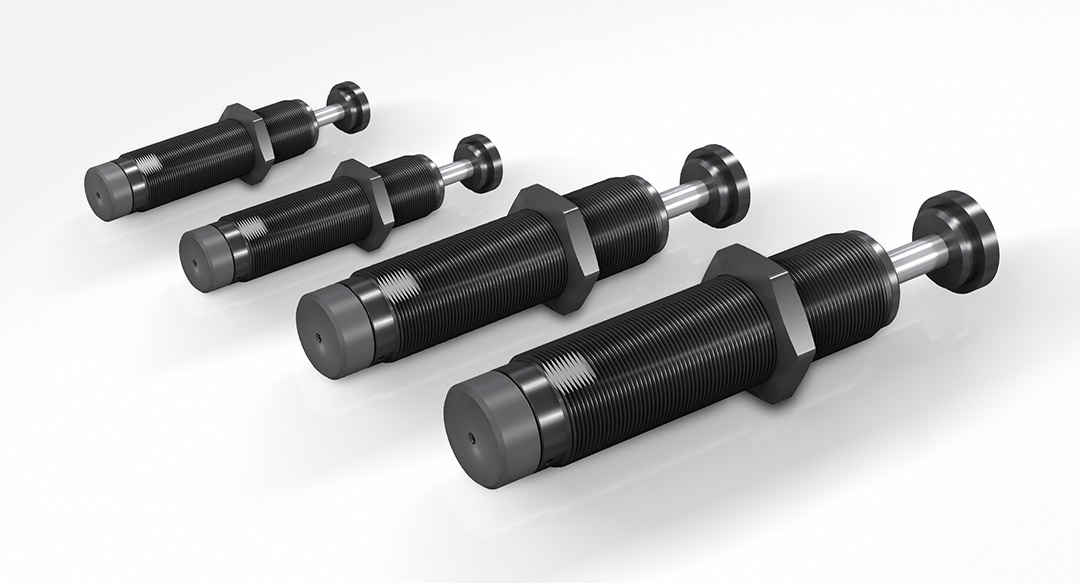 Machine tool manufacturers are always looking to push the envelope to meet challenging production goals. One such manufacturer designed a multi-operational machining center that combines the features of turning and milling machines. This machining center can create complex parts using a broad range of technologies — turning, threading, recessing, drilling, boring, milling, cam milling, grinding and measuring.
While the machine was able to perform a variety of machining tasks, it was hindered by a recurring problem: Whenever an operator closed the access door, the door often bounced back in the opposite direction, creating additional, unwanted impacts and safety issues.
To ensure a controlled stop whenever an operator closes the door, the machine tool manufacturer implemented our MA225M miniature shock absorber. This maintenance-free, ready-to-install unit offers an energy capacity of 300 inch-pounds per cycle and 400,000 inch-pounds per hour. Available in a weight of 5 to 500 pounds, the shock absorber has a very short length of 4.67 inches and has a 0.75-inch stroke length. The MA225M provides soft damping with a return force range of 1.05 to 2.15 pounds, and it includes an integrated positive stop.
Thanks to the MA225M, the machine tool manufacturer was able to:
Increase the door closure velocity, which in turn has increased production.
Reduce the machine load.
Ensure smooth damping whenever the door closes.
Eliminate the possibility of operator injury.
Smooth, Controlled Closure Without Bounces
Access doors to powerful machines such as this turning-milling center are critical to keeping operators safe and nearby components undamaged. That means the damping devices that bear the doors' frequent closures, as well as the machine's constant operation, must be strong and reliable. A door that frequently bounces back is unacceptable.
Our miniature shock absorbers are designed to support up to 900 inch-pounds per cycle depending on the model, and they have a long operating lifetime that makes them well-suited for continuously operating equipment. When it comes to heavy-duty machinery, ACE Controls miniature shock absorbers can keep your access doors trouble-free.
For more information about our MA225M miniature shock absorbers, visit our product page.