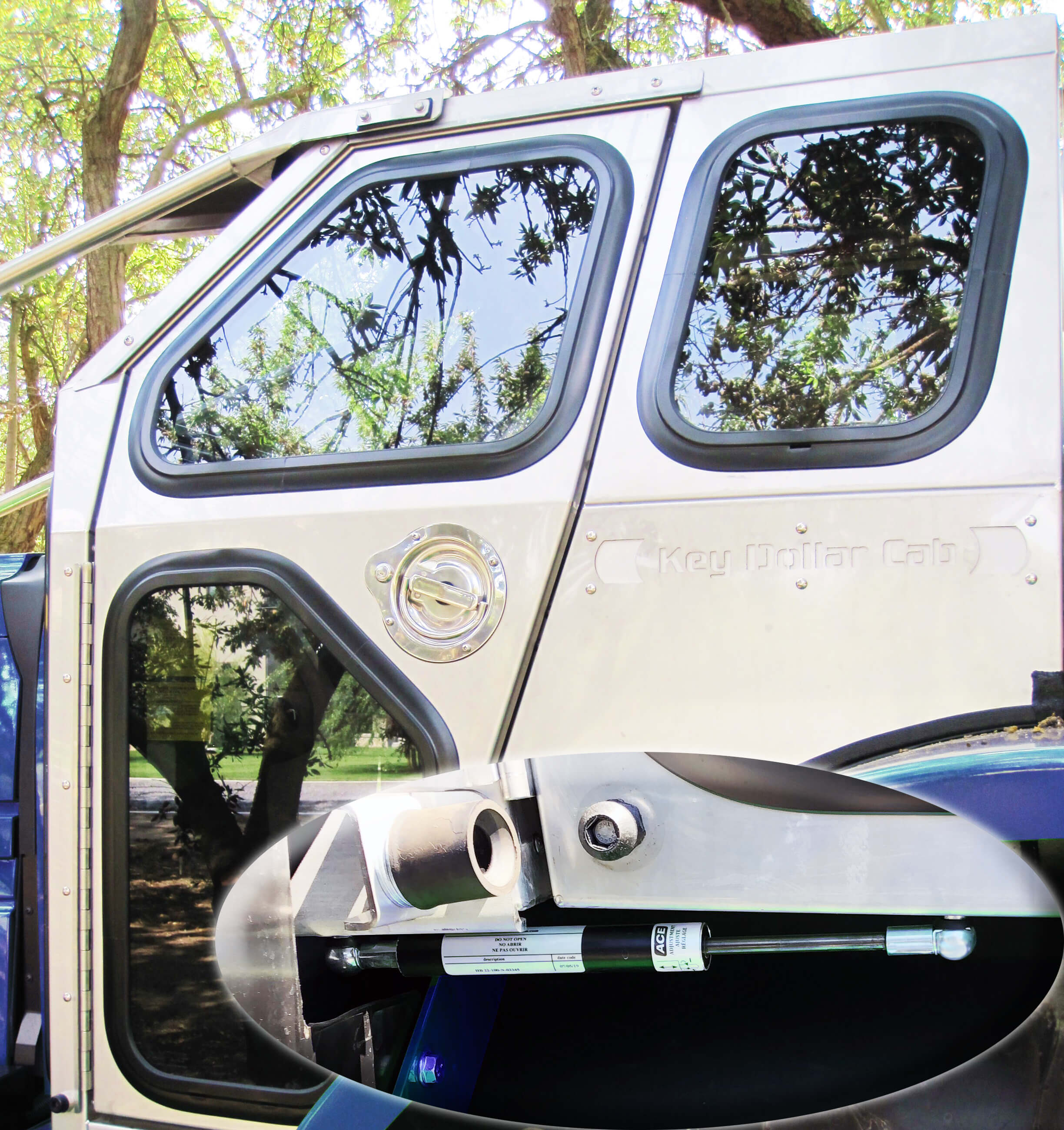 Key Dollar Cab manufactures tractor cabs for a wide variety of tractor models. The cabs provide a safer and more comfortable experience for the tractor operators. The idea for the tractor cabs came about in 1982 and they have been innovating and improving their product ever since. Customer satisfaction has always been a top priority and that is why they are constantly producing new products.
Key Dollar Cab wanted a very specific feature for their orchard tractor cabs that would make them stand out to the end customer as high quality, refined, and built to last. They began looking for a way to provide smooth, controlled motion when opening the tractor doors. The requirement could not be fulfilled by a standard shock or gas spring, they needed something custom.
A custom HB15 damper solved this unique problem for Key Dollar Cab – they needed a damper that would provide an adjustable resistance for the opening swing of the door. The door only needed to be gently slowed at the end of the swing to prevent it from slamming open and causing damage to the tractor cab. The damper has no resistance when closing to eliminate undue stress on the operator and to allow the door to close easily and tightly.
ACE Controls specializes in creating custom parts for our customers, in fact, ACE has a custom product engineer solely responsible for handling these requests. The custom product engineer, Jessica Dawson, will examine the parameters that you require, run them through our simulation software, and let you know if it's possible for her to design what you need.
Mike Colombo, Sales Manager at Key Dollar Cab said, "The dampers are easy to install and have a wide range of adjustment which makes it an excellent resource to fine-tune the way our robust orchard-cab-door functions." The job that the damper was needed for sounds simple, but it accomplishes two very important things:
It protects the components of the door from excessive stress while allowing the door to open rapidly and with ease.
It enhances the operator's experience with the Orchard Tractor Cab from the moment they hop in and sends the message that this is a refined product.
The ACE HB dampers was a seamless integration to the orchard cab, that did something the standard gas springs were not able to accomplish. The ACE sales team and engineers will work with you from the design phase until project completion to ensure that all application requirements are met. A wide range of resources is also available on acecontrols.com, including sizing tools, configurators, CAD drawings, and YouTube tutorials.