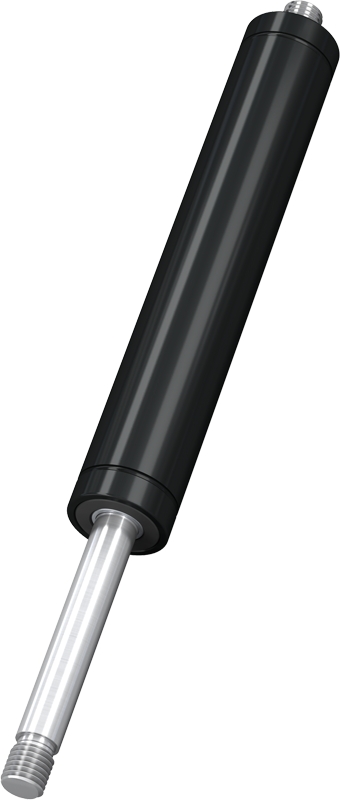 When an application calls for a strong gas spring to provide lifting or lowering control, ACE Controls' GS family can be an excellent choice for the job. With extension forces that range from 10 to 13,000 Newtons and body diameters from 8 to 70 millimeters, these durable and sealed systems are well-suited for supporting an operator's hand force to lift and close hoods and lids in a variety of industrial applications.
However, industrial gas springs like the GS Series are appropriate for more than lifting and closing flaps. In fact, industrial gas springs can be used in winding-type applications. Recently KOHLS Maschinenbau GmbH incorporated ACE industrial gas springs into vertical taping machines used to wind coils around a large transformer.
Winding a large transformer core with resin tape comes with a challenge: The transformer's oval legs' right angled cross-sections can cause a drop in belt tension. The interruption undermines a flat, uniform winding where a variation by even one millimeter is unacceptable. The company needed to add an industrial gas spring to the taping machine's brake system. By using the gas spring's stroke path as a backup during interruptions, proper belt tension can be maintained. KOHLS chose an ACE Controls GS19-150-EE user-adjustable push-type gas spring with a stroke length range of 50 to 300 millimeters.
Based on the application requirements, ACE filled the GS19 with the right amount of pressurized nitrogen to get the desired pressure force. If the gas spring required further adjustment, the GS19 — like ACE Controls' other industrial gas springs — comes with a built-in relief valve. KOHLS' GS19-150-EE engineered solution now provides an extension force of 550 Newtons, and its 152-millimeter reserve travel distance maintains a constant tape tension that withstands interruptions. The result: uniform and even windings around the multi-ton transformer core, and KOHLS has optimized its transformer coil-winding process.
The successful transformer coil-winding application is a good example of how ACE Controls' industrial gas springs combine strength, durability, sizing options and adjustability to give you an engineered solution to match your lifting, lowering or load-handling requirements.
For more information about ACE Controls' industrial gas springs, visit www.acecontrols.com.