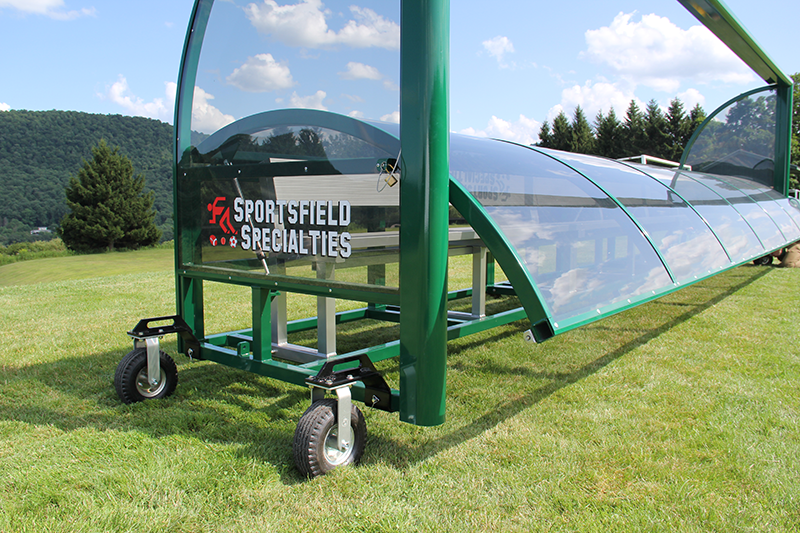 Sportsfield Specialties, Inc. has been an industry leader in manufacturing sport construction equipment for over 20 years. From the design phase to installation they put an emphasis on customer service, giving their clients a high level of confidence. Sportsfield has an extensive product line ranging from goals, seating solutions, netting, indoor/outdoor padding and more.
The Weatherscape™ Team Shelter, created by Sportsfield, is designed to have a collapsible roof that can be lowered to the ground when not in use. Lowering the roof dramatically reduces wind-related tip over and damage. Gas springs were needed in the design to allow the roof to be lowered and locked down, and to assist with lifting the roof back into place. During the design phase of the new Weatherscape™ Team Shelter, Sportsfield reached out to an ACE Controls distributor to find a solution for the raising and lowering feature of the shelter.
The unique parameters of this design made it difficult to determine the needed spring force and ideal placement for the mounting of the gas spring. Sportsfield wanted the roof panel to be able to be lifted and lowered by a single user, the panel weighed well over 200 lbs. and was over 20 ft. long. ACE in-house prototyping and calculation tools helped them zero in on the perfect gas spring for this application. Gas springs from the GS series were able to fit perfectly and provide controlled movement of the roof panel.
The Product Development Engineer, Andrew Hannigan said, "ACE was best able to meet our needs… the free calculation software and additional engineering work were invaluable." Sportsfield investigated other options for the raising/lowering feature and received estimates from other gas spring manufacturers. In the end, ACE was able to provide the winning combination of quality product and a strong platform of services and support. The benefits of using ACE services and support were:
Reduced calculation and prototyping time

The online sizing and configurator tools gave Sportsfield a viable baseline to work from

Application engineer review of the mounting points offered less work for Sportsfield

Gas spring, end fittings, and protective seal come preassembled as one unit
The GS series gas springs created an effortless user experience for the Weatherscape™ Team Shelter. The ACE sales team and engineers will work with you from the design phase until project completion to ensure that all application requirements are met. A wide range of resources is also available on acecontrols.com, including sizing tools, configurators, CAD drawings, and YouTube tutorials. Contact ACE to help make your next project design phase go faster, and easier.