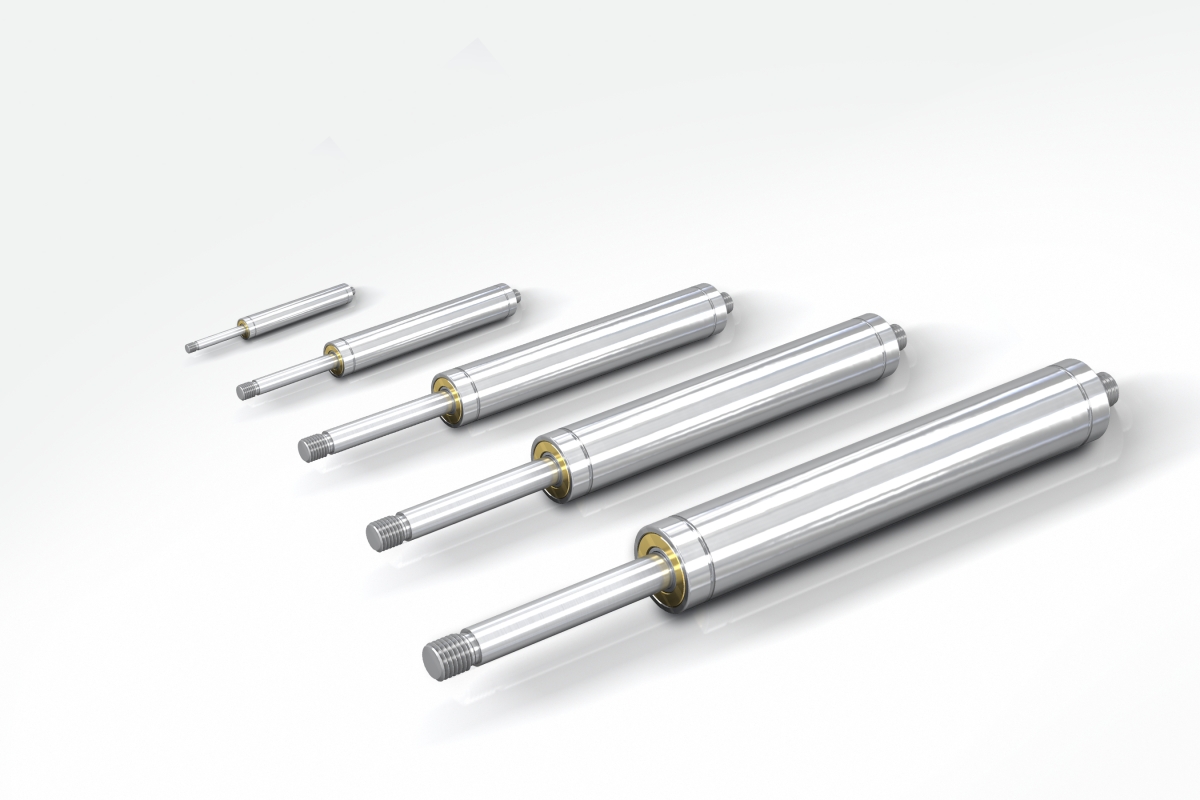 When it comes to thermoforming machinery, ensuring the safety of nearby workers is a critical aspect of their design. Not only do these machines weigh several tons, they have many moving parts, built-in heating ovens and presses that require a barrier to separate workers from dangerous functions. In general, once the machine is up and running in automatic mode, there should be little employee involvement with the machine — unless or until something goes wrong with the equipment or when maintenance is needed.
To provide access, thermoforming machines have heavy doors or hoods that must stay open long enough for the worker to complete their task. One ACE customer built a thermoforming machine to include a clear glass access hood that weighs more than 110 pounds. They needed to add a support mechanism to hold the heavy door in the open position.
They chose an ACE Controls GS-22-300-CC-VA gas spring. This push-type gas spring with 11.81-inch stroke has a maximum extension force of 247 pounds — an ideal amount of muscle to support heavy loads, and a lifetime of approximately 250,000 cycles, making it well-suited for heavy-duty applications like thermoforming machines. The GS-22-300-VA Series is part of ACE's industrial family of gas springs with extension force capabilities ranging from 2 to 2,923 pounds (10 to 13,000N) and body diameters from 0.31 to 2.76 inches (8 to 70 millimeters). Additional features and specifications include:
Stainless steel construction and a wear-resistant steel piston rod.
An end position damping length of approximately 0.79 to 2.76 inches (depending on the stroke).
A design that allows for mounting in any position, although mounting with the piston rod downwards is most effective.
To get the proper size and fit for, customers can access ACE Controls' online sizing and configuration tool and enter details about the intended installation. The tool will generate interactive 2D and 3D simulations that the user can rotate, tilt and zoom.
Thanks to an ACE Controls industrial gas spring, the thermoforming machine builder is able to keep the heavy glass hood open for as long as needed without worrying about the hood injuring operators or maintenance personnel.
Reliable Gas Springs Ensure Worker Safety
Because hoods on thermoforming machines are critical to keeping nearby people safe, the devices that bear their heavy weight and ensure their functionality must be strong and reliable. A hood that closes prematurely is unacceptable. ACE Controls push-type industrial gas springs are designed to support loads as high as nearly 3,000 pounds, depending on the model, and have a long operating lifetime. For your heavy-duty machinery like thermoforming equipment, it pays to have industrial gas springs under the hood.
For more information about the ACE Controls GS-22-300-VA industrial gas spring, visit our product page.