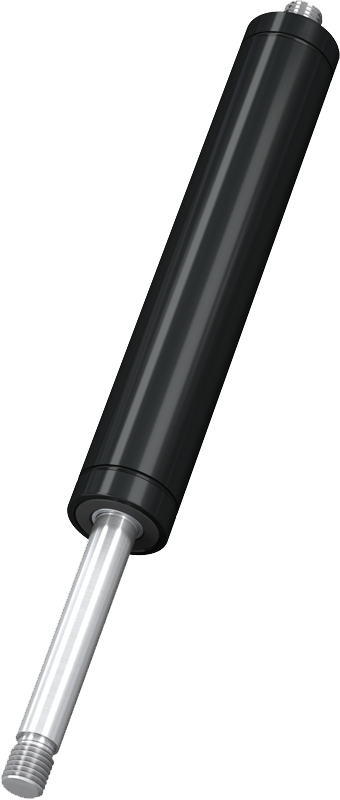 When work needs to be done at a hard-to-reach height, mobile elevating work platforms (MEWPs) are both a portable and versatile means to lift personnel off the ground to access a work space. Their compact size, light weight and casters make them portable, and their height can be adjusted to allow them to adapt to their intended work location.
An ACE customer recently designed a platform with various height settings to allow operators to work at the correct height for the job. The MEWP's 24-inch wide steps and six-square foot platform self-level to present a safe walk and work surface throughout its working range. Its work area has room for an operator and equipment, while the wide steel base provides excellent stability. Soft, 360-degree swiveling casters make the MEWP easy to roll indoors and out, and it can be positioned precisely around sensitive equipment. The MEWP's design required a mechanism to ensure smooth, controlled motion when an operator raises or lowers the platform.
The platform builder chose an ACE Controls GS-28-450-AA industrial gas spring. This user-adjustable push-type unit offers a 17.72-inch stroke and a maximum extension force of 438 pounds, making it well-suited to provide long travel and strength to support personnel and equipment. The GS-28-450 is part of our industrial family of gas springs that can provide a wide range of forces from 2 to 2,923 pounds, and their body diameters range from 0.31 to 2.76 inches. ACE Controls fills the GS-28-450 to customer requirements, so it's ready to install. Like all ACE Controls industrial gas springs, the GS-28-450 comes with a built-in relief valve to allow users to adjust the pressure if necessary.
Users operate the MEWP by removing a locking pin, and the gas springs provide steady controlled assistance as the platform is raised. The GS-28-450 allows the user to lower the platform with gentle downward pressure before locking the pin back in place.
The successful work platform application is a good example of how ACE Controls' industrial gas springs provide an engineered solution to give users steady control for lifting and lowering a mechanism to a variety of heights. Thanks to the GS-28-450, the builder has produced a work platform that is as versatile as it is popular.
For more information about ACE Controls' GS-28-450 push-type industrial gas spring, visit the product page.