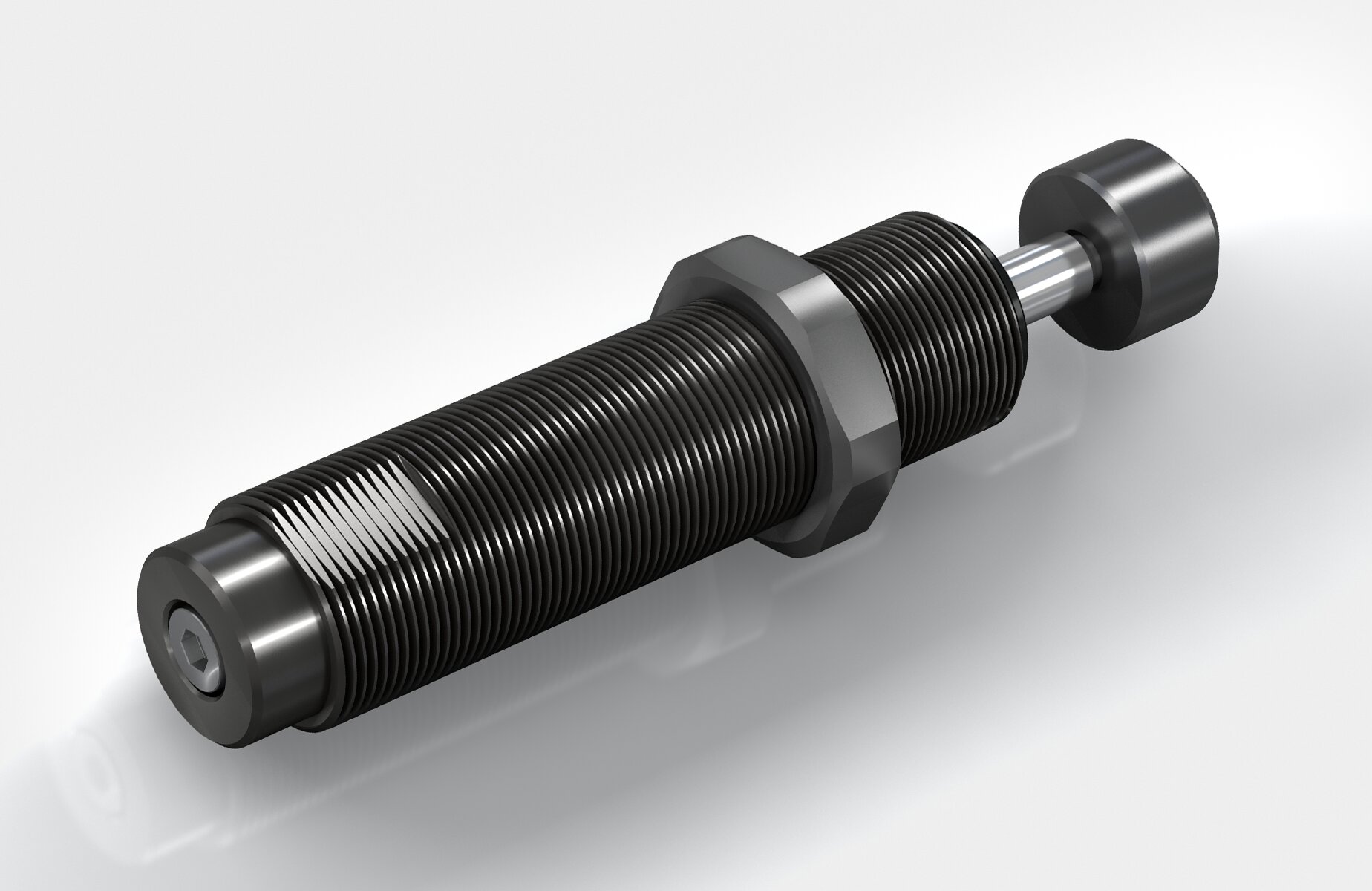 When hydraulic driveway gates of eight feet or more decelerate to their open or closed positions, they can vibrate or twist. Not surprisingly, gate builders want to prevent these motions from happening. One solution is to slow the gate's swing speed. However, this option doesn't sit well with on-the-go users. Another option is servo deceleration, which can add costly and complex electrical controls to the gate system.
Recently, a gate builder asked ACE Controls for a way to address the swing problem. The solution was to add two shock absorbers as close as possible to the pivot. This arrangement created a couple of inches of deceleration near the pivot, resulting in roughly two feet of deceleration at the gate end positions. The shock absorbers also manage a high effective weight — nearly all of it being a product of the hydraulic driving force.
The shock absorber series used in this swing gate application is the ACE Controls SC650. Ideal for soft damping, these miniature shock absorbers offer an energy capacity of 650 inch-pounds per cycle and 600,000 inch-pounds per hour. With a stroke length of 1 inch, this series is available with soft-contact minimal effective weights from 24 to 800 pounds, as well as maximum effective weights from 80 to 2,400 pounds. In addition, these self-compensating units can react to changing energy conditions without adjustment.
Additional features and specifications include:
A maintenance-free, ready-to-install design.
An integrated positive stop.
Impact angles up to 25 degrees when used with a side load adapter.
Thanks to these attributes, the SC650 shock absorbers have effectively decelerated the moving gate energy, which is a very small portion of the system's overall energy. Because most of the energy is from the hydraulics, the shock absorber can be thought of as the varying velocity flow control; as the shock absorber gradually slows, the hydraulic system slowly increases flow across the relief valves as if it has servo-controlled deceleration.
In addition to driveway gates, our soft-contact miniature shock absorbers are well-suited for industrial, automation and machine engineering applications — especially when it comes to parts and materials handling. Whether you need to eliminate the effects of vibrations or twisting in your machine, absorb impacts or simply ensure aesthetically pleasing motion, our miniature shock absorbers can provide just the right amount of deceleration control to meet your needs.
For more information about our soft-contact miniature shock absorbers, visit the product page.