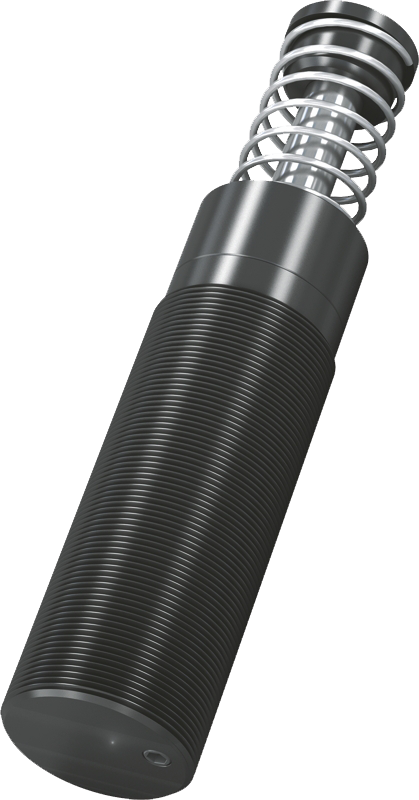 When a drawbridge connects a small village to a larger town, that bridge is indispensable for the village. This was recently the case in the Netherlands, where Brekkenpolder, with just 65 inhabitants, relies on the Rengersbrug drawbridge to reach the larger town of Lemmer.
A Strong Yet Quiet Damping Mechanism
When a lift-type, or bascule, drawbridge like the Rengersbrug opens and closes, the deck makes heavy contact with the bridge structure. During a recent reconstruction of the Rengersbrug drawbridge, the engineers needed a damping mechanism that could withstand the damaging impact imposed by the deck when it moves—sometimes as much as 11 times per hour.
Previously, the drawbridge used a pair of compression springs to absorb the impact during closing. However, the forces from the heavy bridge deck regularly caused the springs to break. Noise was also an issue whenever the deck made contact with the springs. For these reasons, the engineers needed to install softer damping mechanisms.
ACE Controls Shock Absorbers Meet Success
To meet these requirements, engineers chose ACE Controls MC6450M industrial shock absorbers. These self-compensating units are available with energy capacities from 16,550 in-lbs per cycle to 50,000 in-lbs per cycle and strokes from 1.91 to 5.91 inches. A pair of MC6450M shock absorbers, each with a net weight of 6.4 pounds, were installed with the following specifications: a total weight of approximately 26,455 pounds with a 0.4-degree impact angle and an impact velocity of 0.79 feet per second.
The MC6450M Series is part of our MAGNUM range of industrial shock absorbers. In addition to offering high energy absorption, wide damping range and a compact design, this family of self-compensating shock absorbers reacts to changing energy conditions without adjustment. Other features include:
A robust design
A long service life
Continuous outer thread
Integrated hardened stop
Mounting in any position
Options available on request
Strength to Absorb a Moving Bridge Deck
Because drawbridges can be a vital link between towns, structural engineers need to make sure they have the right damping devices to keep the spans functional. Our MC6450M shock absorbers provided the reconstructed Rengersbrug drawbridge with exceptional energy absorption, controlling the deck's deceleration and ensuring Lemmer and Brekkenpolder stay well-connected.
For more information about our MC6450M industrial shock absorber, visit our product page.